Why hello there Mr. Hump Day. Or can I call you Wednesday? 😉
Get your glasses out folks cuz we're the work week is half full!
..or half empty for all you Debbie Downers out there.
First things first I wanted to let you guys in on a little secret. It's so secret that it doesn't even know it's a secret. And is now out there for the world to keep a secret. Did I say secret yet?
Get on with it Em. Wellllll after my little hiatus from running, I've realized it's my left hand man (coffee's my right). Call it my type A personality, but I'm very goal oriented which is why I have decided to final commit to MY FIRST HALF MARATHON!!
Ah, yes I've only told myself half a marathon times (waka waka) that I will run one, but this year's the year. I've chosen the Wolf Hollow Half in November, which gives me exactly 12 weeks for training. Yesterday was my first real run in a good month, and I was able to knock out 3 miles first thing in the AM without stopping. A big feat for a humid morning after coming back from an "it's complicated" relationship with running.
I even got to see all the kiddos waiting for the bus on the first day of school. Adorbs.
It's also perfect timing that I was invited to a NH Running Blogger Meet Up with Runner's Alley on Friday. I guess I should actually fill those running blogger shoes before I make a fool of myself.
If you had any peek at my pinterest, you might have had an idea I was getting a case of the runs. Well that came out just in time to ruin….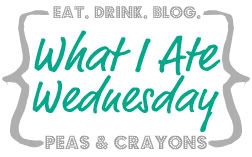 After my run, I hopped in for a quick shower then whipped up a hugh jass omelet stuffed with green peppers and refried beans topped with salsa and a side of fresh sauerkraut (and the world's hardest word to remember how to spell is…)
It's pretty side how excited this girl gets about finding fresh sauerkraut and for only $2.00! Only cabbage, salt, and spring water. And a side of crosswords for my inner Granny.
And some food and nutrition to go with this month's issue of Food & Nutrition. A hugh jass  ( I'm really diggin' this Hugh guy) salad with fresh tomatoes, tuna mixed with salsa, and blueberry almonds. It just worked, so deal with it.
Guess who's backkkk…..
It actually would have been broccoli if Market Basket actually had it. Topped with VTPB almond butter and a baby Chuck Brown. Good grief 😐
An afternoon stack was a few bites of cottage cheese eaten out of the container in front on the fridge. Not worth the effort or memory space for a sad picture of this.
Dinner was a collard wrap stuffed with summer squash, sprouted tofu, and….SALSA! Noowww you get the title right? And nacho points for naming the song it's from too!
And dessert was an ice cream cone bigger than Franklin the turtle.
Thanks for reminding me how old I am crayons, I was trying to forget that. Jeesh!
And there's my salsa filled eats for this Wednesday. Thanks again to Ms. Jenn for hosting!
Make it a great day!
Do you like mild or spicy salsa?
Hard or soft shell tacos?