Does everybody know what time it is?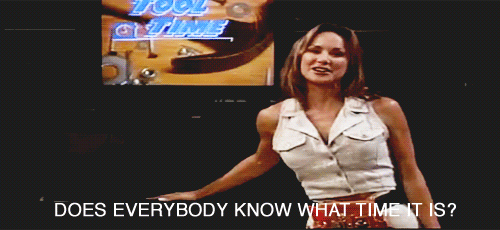 TOOL TIME!!!!
..If your tool is a spoon and your deconstructing a jar of nut butter. It's WIAW time folks!
Before we get into our regularly scheduled food-gramming, let's talk some goal setting.
I've seen a flood of July Fit Goals a la Instagram as part of the #JulyFitPhotos campaign, which got me thinkin'
I'm a very goal-oriented kinda gal, so it was time I set some new ones for myself now that I am finally experiencing what the word settled means.
Here's the goals I set for myself this month:
Increase step goal to 10,500.

 I have a love affair with my FitBit, and have a daily goal of 10k steps per day. Time to "step" up my game and add an extra 500.

Eat at least 1 meal/day without any distractions.

 I am so guilty of using my phone or computer when I'm eating. I'm setting a realistic goal, and aiming for at least 1 meal without an episode of Friends or pictures of pug babies.

Exercise 5+ days/week for 30 minutes.

 I'm finally getting back into my fitness game, running included and am loving it. I feel so much better and energized after a workout and want to keep the ball rolling. Unless it's a long walk or run outside, I can't bear the thought of exercising for more than 30 minutes. This is why HIIT and Tabata workouts are my best friends.

Buy 1 new fruit/vegetable each week.

 I'm guilty of falling into a rut of F/V rotations. Carrots. Kale. Apples. Repeat. On top of regaining my carrot-induced tan, I'm forcing myself to step out and expand my veggie horizons. In case you were wondering how Bok Choy tastes with peanut butter, I'm sure you'll soon find out.
I'll be sharing my goal crushing progress on Instagram, so you can follow along all month!
But first things first, let's eat.
Breakfast
After chugging down a hugh jass glass of water and a cup of coffee, I started the day off with one of my favorite meals of the moment.
2 eggs // salsa // baked sweet potato // tbsp pb
It's what I like to call a lazy gal's omelet. I just crack the eggs in the pan, break the yolks, and wiggle them around until it resembles a circle. Bowls are for amateurs.
And a sprinkling of fresh basil because I'm so fancy my plant is dying and am milking that thing for all it's worth.
 Lunch
I never get tired of this African Peanut Stew. The recipe supposedly makes 8 servings, but I've managed to eat 80% of it in three days. No shame.
I paired it up with some fresh cherries since there super duper on sale, and a hard boiled egg, since smelling up the office kitchen is my prerogative.
Snack
Granny Smith apple // tbsp pb
Apple and pb is a winning combination. Truth be told, I just eat the apple, then a spoon full of peanut butter afterwards. It works.
Dinner
After an episode of Friends, I chowed down on my ever popular salmon burgers in a collard wrap, and topped with some spicy brown mustard. No matter what I put that stuff on, all I can think about is soft pretzels.
I helped myself to half a bowl more of the stew and a pb covered carrot for my daily quota.
Snack
After a killer upper body workout, I dug into a protein mug cake for some more Friends time.

1 scoop protein powder // 1 flax egg (1 tbsp flax + 2 tbsp water) // 1/4 c water // dash baking soda // few blueberries // pb
…Guess I'm off to a bad start with that whole no distraction thing.
My other latest nightly obsession has been making my own sparkling lemonade. It's a fun change to the usual water game, and keeps me from mindlessly dipping the contents of my fridge into a jar of peanut butter. And also causes a 2 AM bathroom trip.
All I do is pour a couple tablespoons or so of lemon juice into a glass, add a few drops of liquid stevia (SweetLeaf brand), and top with some lemon-lime seltzer. Perfection!
Thanks miss Jenn & friends for hosting!
Make it a great day!
Did you set any goals for July?
What's one food you have almost every day?