'Ello my jingle jangle frands!
Can you believe it's already December?! And only..
22 DAYS 'TIL CHRISTMAS?!?!
I've bought one gift, which is a stocking stuffer sooo it's really only like 1/8 of a gift. At least I have my dashboard Santa to remind me what the holidays are all about.
…as I curse traffic and fight soccer moms for parking spaces at Target. I love the holidays.
But first. FOOD. Music. THEN food.
Music is a big motivator for me, especially when it comes to running. I told you with my half recap that I'd be coming back for a couple more installments, and first up is my tunes!
Here's what I had to keep me going for 2+ hours when I probably would have otherwise parked myself on a tree stump at mile 3.

Sufjan Stevens – Romulus – A soft & slow tune to start me off nice and easy. Love the banjo rifts at the beginning as well.
Jessie Baylin – Little Spark – Another slower song, but the lyrics speak mountains to what I am feeling at this point in my life. It helps that her voice is amazing as well.
Coldplay – Strawberry Swing – Coldplay is featured on my running playlists very frequently, but this is one of my all time favorites by them.
SoS Band – Take Your Time Do It Right – An oldie, but always puts me in a good mood. And seemed like a fitting title for a race.
Birthday – Katy Perry – For when it's time to bring out the big. Big. BIG. Ba-lloons.
Coldplay – Sky Full of Stars – Told ya I liked Coldplay. Actually reminds me of France after hearing it non-stop there.
David Guetta – Where Them Girls At – Nothing like some Flo Rida and Nicki to get your as$ movin!
Ke$ha – C'mon – If Ke$ha's telling you to come on, well you just have to oblige. Side note: do you think her name is spelled with a $ on her birth certificate?
Walk The Moon – Tightrope – The beat in this song always helps me check my pace. I should NOT be running slower than that.
Calvin Harris & Ne-yo – Let's Go – It's now or never, oh oh ohhh! Some good old pump up tunes.
Charli XCX – Boom Clap (aeroplane remix) – Love this song even more when it's remixed to some more dubstep tunes.
Lana Del Ray– Young & Beautiful (Cedric Gervais remix) – Same as above. Fist pump approved.
Coldplay – Every Teardrop is a Waterfall – Oh hey! More CP. Big surprise.
Cash Cash – Overtime – Time to put some OT on this biiitc…run.
Rihanna – We Found Love – MY JAM! Rihanna just makes me break out into my signature dance move. Play it for me and you'll find out.
Britney Spears – Break the Ice (bugzzz remix) – Bringing back the Brit with another ra-ra-REEEEMMMIIIIXXXX! (*cue obnoxious train horn)
Katy Perry – Roar – Hellooo motivation!
Flux Pavillion – I Can't Stop – I literally can't stop when this song comes on.
Florence & the Machine – Dog Days Are Over – Run fast for your mother. Fast for your father. Done Flo.
Jamie N Commons & X Ambassadors – Jungle – This song just makes me feel like such a badas$. Like I should be running through a hail storm.
Rilo Kiley – Pictures of Success – One of my all time favorites. "These are times that can't be weathered."
Disclosure feat. Sam Smith – Latch – I don't get tired of this song. So catchy.
Michael Jackson – A Place With No Name – A catchy tune release by the King himself.
Ellie Goulding – Burn – Another great motivator.
Cash Cash – Take Me Home – Usually the last song on my playlists to..ya know take me home.
Lynyrd Skynyrd – Sweet Home Alabama – The first song in my dedication section. For Papa John who has been my fitness buddy.
Robin S – Show Me Love – A tribute to MJ and just makes you want to dance..or not stop running at mile 10.
Of Monsters & Men – Mountain Sound – A shout out to my soul roomie from the South that I miss each day. WE WERE NOTHING LIKE THE REST!
Icona Pop – All Night – And for miss Hannah. I only wish I felt I could run all night at this point.
Travis Tritt – It's A Great Day To Be Alive – To my far away best friend since we used to howl this song out of car windows during the summer.
Martin Solveig feat. Dragonette – Hello – A tribute to my blonde partner in crime, Katie Aftermath
The Weepies – Can't Go Back Now – A shout out to my best girlfrand, Hillary. And some optimizing for the race.
Drake – Too Much – A nod to my brother (who works for Drake). I can't help but rap along.
Neil Young – Cinnamon Girl – And to my other brother who would blare this on our summer car trips.
Warren Zevon – Werewolves of London – A tribute to the race itself, Wolf Hollow (get it?!) for sponsoring my race registration.
The Temper Trap – Sweet Disposition – "My song" I just love it. And came on right in time for me to push through.
Hope you enjoy some new tunes!
Now let's get down to some food for WIAW!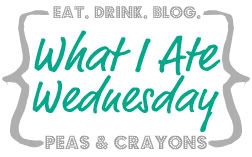 I managed to snap a picture before polishing off the rest of my 3 egg omelet with stuffed with some of the pesto I made with Lee's recipe. Followed by some decaf coffee once I got to work.
Lunch was a spinach salad with cottage cheese drizzled with olive oil.
and some cucumber wedges with plain Greek yogurt, and a carrot with homemade sunflower seed butter. So satisfying!
Dinner was kept classy & the most unappealing with homemade pea soup and one of my salmon patties topped with more pesto and served on a tupperware lid. #ohyouthinkyoursofancy
Followed up with a cup of green tea & couple of my beloved pb-covered carrots.
and the only way I know how many days are left 'til Christmas. All while watching Elf.
Thanks again miss Jenn for hosting!
Catch all my other eating shenanigans on Instagram, and be sure to stop in this Friday for this month's Did You Know link-up!
Make it a great day!
Have you starting Christmas shopping yet?
Any good snack ideas out there?