Hello my fabulous Friday friends! Is it just me, or do short weeks not go by any faster. Now I just have to get the same amount of work done is a shorter amount of time. Thanks a lot holidays! Don't worry. I'll be thanking you again once you coming around in a couple weeks. In the meantime, I'll loathe all the work I have to get done beforehand.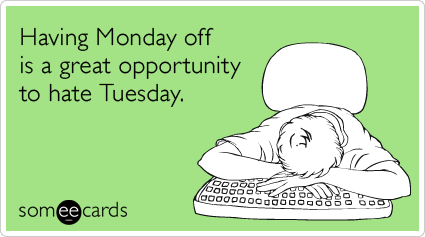 Now that the days are shorter and the nights are colder, I have yet to put myself up to task of playing a game of 'beat the clock' with a run after work outside.
Instead I've been using my own personal gym at Papa John's with some interval runs on the dreadmill. Yes, if I'm forced to run longer than 30 minutes on that thing there better be a hunky fireman standing in front of me eating a carrot dipped in pb because otherwise it ain't happenin'.
Despite only being a 25 minute run, intervals always prove to be tough. They force me to not drag my feet and actually put some effort into it or risk looking like Freddie Kruger with a face full of treadmill rash. I'll show you the embarrassing pre-photo of the day I fell off a treadmill.
True fact, I can't run and make fun of someone at the same time. KARMA. Only Hilry can share this embarrassingly hilarious moment with me. Instead you get to imagine and look at my mismatched knee socks.
Now that I've been running for a good chunk of time, my body is telling me it's time to move on. We're past the 2 year make or break point in our relationship and it's time to give it up. Okay, like I could ever ditch running completely, but I do think it's time to change up the routine a bit, especially for the #Commit2Fit Campaign. And that's when I got this insane idea to take on the challenge of INSANITY.
Papa John had done it a while back and said he could really feel and notice a difference which is exactly what I need before I go to muffintop-town after a season of Nana's fudge and peanut butter blossoms.
Papa John is taking on the challenge with me which is extra motivating so I may actually stick to it. Granted after watching the Fit Test, I saw my life and weak arms flash before me, but I know he'll motivate me to stick to it.
I think it will help to not have my yoga pants and computer at my disposal which pretty much forces me to have to do it. 6 days a week. Maybe if I'm still breathing on Sunday I could sneak a run in, but I feel like that would be cheating on my fling with Mr. Insanity. Don't worry running, your my fallback guy..
In other fabulous news, I tried this new to me flavor cho-bo yesterday morning. I can't deny that the flavor reminded me of orange jello. It was tasty but everyone knows if it's not red jello, just go home. Unless you're in the form of a shot glass then all bets are off.
Now I'm off to finish the day and see Thor in theaters tonight. PS I'm so European I always start to spell it "theatre" until America slaps me in the face with spell check. Remember Emily, you're in NEW England. I always get those two confused. Big Ben. The Green Monster. Same diff. Cherri-o!
Happy Weekend!
PS You still have time to enter my Pro Compression giveaway until Sunday at midnight where they will then turn into a pumpkin.
Have you ever done Insanity?
Ever eaten a blood orange?