Happy Friday! I am ready for weekend and all it's fabulous workless-ness.
So I finally settled down and got to updating my bid-ness cards for the blog after I got my RD. They got quite the overhaul and I love the way they came out. Ever fully equipped with a QR code and all. PS I just found out what these codes are about 2 days ago. Google, you are so wise.
Yesterday my gal pal Hannah and I seized the sunshine that I summoned with my godly orange skinned powers.
Unfortunately I couldn't muster up any warmth to go along with it so we took running selfies to stay warm.
Be jealous. All that cold made me want just one thing. Strawberry Cho with chocolate sprinkles. Don't ask me about these things. Just accept them.
And today is the second edition of the Did You Know.. nutrition link up! Be sure to check out all the other hot topics at the end and add yours to share as well.
In the spirit of celebrating the weekend, some of you may reach for a bottle glass of your favorite adult bev. With the bombardment of "diet" and "low cal" products out there, it's no surprise that the liquor business hopped on the bandwagon with "skinny" cocktails and drinks. But do these drinks really belly up to give you a buzz for less calories?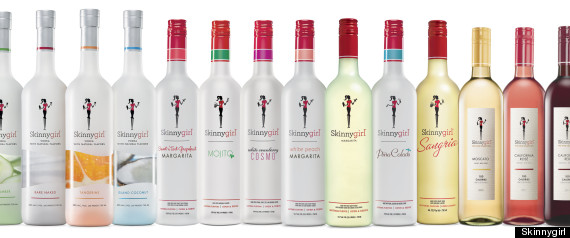 So I enjoy a glass of wine as much as the next gal, and the thoughts of getting a glass for less calories sounds like quite the package deal. But like many things, if it sounds too good to be true..it probably is.
First off, I can't say I am a fan of the line "drink like a lady". What kind of message is that sending to us 'ladies'? Oh I'm sorry, I forget since I'm a woman I'm not entitled to drink or eat anything that isn't diet or low calorie. You might want to tell my jar of peanut butter that. We've been having quite the ongoing affair.
Now that I've gotten off that soap box let's get down to the real question. Is it all it's cracked up to be? Each glass of skinny wine is about 100 calories, which in diet terms is the magical number. I could put a quarter of a donut in pretty packaging and slap a "Only 100 Calories!" label on it and make millions, but anyway I've made my point.
You know how many calories are in the average glass of wine. 110. Stop the presses, I just saved 10 calories on a glass of wine I spent $10 extra dollars on. Not quite the savings if you ask me.
I'm not just here to bash the Skinny line of wine and drinks since they do offer quite a lower calorie version of a margarita and mixed drinks. When it comes to the wine though, save your money and buy a bottle of good wine and enjoy it.
There are also lines of flavored vodkas that are claiming to be lower in calories than leading brands. You want to know the truth you don't want to hear? Sure they're lower in calories, it's because they're lower in alcohol.
Yup. Technically speaking in the alcohol world, bottled vodkas must be no less than 80 proof, but flavored vodkas can be bottled at 60 proof. So these skinny and fruity flavored vodkas are really just there to get you less drunk for twice the amount of money. Plus, if you are thinking, "oh it's less calories so I can have more anyways!"
And this is exactly true. According to studies at Journal of Marketing Research, foods that were labeled low-fat encouraged people to eat 50% more. They often underestimated the actual calories of these products thus ended up eating more calories. So these light and low calorie drinks and cocktails can actually make you drink more and consume more calories which is the opposite of the point, right?
So the bottom line is, when it comes to low-calorie alcohol, it is because it is lower in calories. Unless these companies have somehow become magicians and have taken the calories out of alcohol itself, the only calories coming from vodka or any hard alcohols..is alcohol. The same goes for wines and beers. Less calories..less alcohol.
Instead of investing twice as much on half the alcohol, enjoy the real thing, and all in moderation. The recommendation is one drink per day for women and two for men. I think this infographic from Greatist is a great and easy way to see the calories of regular drinks to see the best choices out there without the low-cal or skinny label.
Join in on the fun by linking up below or checking out all the other topics!
Join in an awesome nutrition link-up happening at 3 different blogs the first Friday of each month! 
Connect with the lovely hostesses:
Amanda at Diary of a Semi-Health Nut
Twitter | Facebook | Instagram | Pinterest |bloglovin'
Emily at More Than Just Dessert
Twitter | Facebook | Instagram | Pinterest | bloglovin'
Emily at Sinful Nutrition
Twitter | Facebook | Instagram | Pinterest | bloglovin'
Rules:
1. Link back to one of our blogs.
2. Link up as many posts you wish with the theme of nutrition facts/knowledge/tips/information.
3. Visit at least one of the other links.
4. No product promotion or giveaway link-ups.
5. Remember to cite your sources!
Have you ever tried low-calorie wine?
Any plans for the weekend?